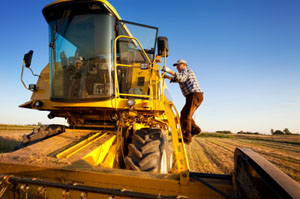 Farm Communications
Australian farmers have been having a better run since the breaking of the drought, and there is a strong outlook for food prices over the coming decades as Asian economies strengthen, and the Asian middle class continues to swell.
But, having run the gauntlet of the weather, and produced a crop, there is still the little matter of harvest. It is here that a radio phone system really can help farmers not just save money, but get the most from highly volatile markets.
Some of the benefits of a long range cordless system:
Completely independent of the mobile network, works where no mobile coverage
Walkie talkie function – create your own FREE radio phone network
Stay in touch with grain markets without even getting off the header!
Co-ordinate trucks and carriers
Added safety of staying in touch with home
Engenius Durafon
A long range industrial quality cordless phone such as the Engenius Durafon, provides all the advantages of a UHF radio system with blanket handset-to-handset coverage as well as normal phone functionality.   This long range cordless telephone is an extremely rugged system with its origin in military communications. The rugged construction makes it particularly well suited to the rigours of farming operations.
It is designed to deliver high reliability wireless phone communications up to 10 km.
A cordless telephone system consists of one or more handsets that communicate with a base station connected to a fixed telephone line. Phones such as the Engenius Durafon communicate in the 902-928 MHZ UHF radio frequency and achieve long range through the low frequency and high power output of the unit.
Engenius Durafon set up
The system consists of a base unit connected to the fixed phone line (or lines), and 1 or more external handsets. The base unit has an antenna, but this can be supplemented with an external antenna (link) and low loss cable.
The handsets are two way radios that can also be used to talk to each other independent of the base station.
Summary
The Engenius Durafon systems provide a local, highly cost effective call network without the ongoing expense of mobile phone communications.